Gloucestershire Shimbukan Dojo
Paul Vermiglio Sensei (Shihan)
Paul Vermiglio is a 7th Dan Shihan in Ryukyu Kobudo Shimbukan and a 7th Dan Shihan in Okinawa Shorin Ryu Mukenkai Karate. He has been a student of the Shimbukan Dojo since 1996 and was a resident student (Uchi Deshi) in Okinawa for nearly five years prior to returning to the west. He has been instrumental in spreading Ryukyu Kobudo in the UK and Israel. He has also been prolific in his support of international training camps around the world, supporting events in places like Israel, Switzerland, the Ukraine, Spain, the United States, Sweden, and the Philippines.
Check out his new Facebook page for more information.
Our Belief
We are here to Promote and Preserve what we have been privileged to be taught. Our art is a living part of the Okinawan Culture. It provides a challenge to both the physique and the character of the practitioner.
Here at the UK Branch we cherish this tradition. We truly believe that dispensing with tradition and focusing only on the physical is foolish and futile when it comes to personal growth, no matter how capable we may be.
We are open to new worlds and different points of view. We cherish the foundation while also experimenting with permutations of the concepts and techniques that the basics have taught us. We always review and refine what we were taught and look for new ways to understand those lessons. Just as food fuels the body, laughter fuels our souls. We teach our students how to grow and flourish, and derive value from progress while also keeping the ego in check. Pride will slow and eventually strangle personal betterment; it will stop us on our path.
One of the most important functions of martial arts training is to nurture the human spirit. We do this through hard training and fellowship, building ourselves through challenges and through helping each other grow. We are very patriotic to both kobudo and karate and the UK Branch will lead in a way that keeps the bonds of integrity together.
Tribute to Akamine Eisuke Dai Sensei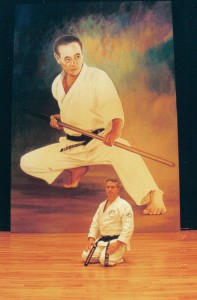 Dai Sensei Tribute
This photo was taken at the tribute for Akamine Eisuke Dai Sensei that was held on the anniversary of his death. The beautiful painting of Dai Sensei in his prime humbled all of the students privileged to perform kata before it.