Shimbukan Dojo, Minnesota
Lonsdale Shibu Dojo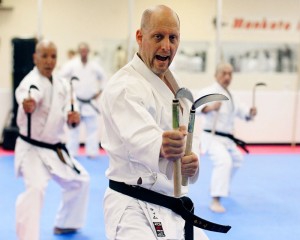 Tim Jurgens
Tim Jurgens has been training martial arts since 1982, when he first took free classes through a club in Mankato Minnesota where he grew up.
In 1985 he enlisted in the Marines and began training Matsumura Shorin Ryu in 29 Palms California. He made his first trip to Okinawa in 1987 staying for two years and earning a Nidan from the Kenshinkan association under Kise Sensei and also had the opportunity to train with Odo Sensei before reporting to Quantico for Embassy Guard training. He taught Karate at the American Club in Budapest in 1989, his first dojo.
In 1990 he returned to his home state to study Chemistry at the University of Minesota. In 1991 he reported for duty at Camp Lejune where he trained in Okinawan Kempo with Lary Isiacs Sensei.
In 1994 he returned to Okinawa and began training Yoshinkan Aikido and also began his study of Japanese language and culture through the University of Maryland. In 1995 he was introduced to Akamine Eisuke Sensei and the senior students of the Shimbukan Dojo. He has been a Kobudo student since then, earning his certified instructor's license, dojo license, Renshi 6th Dan, and Shihan's licenses throughout the years. He also trains Shorin Ryu Karate with the Muken Kai association and holds the grade of Kyoshi 7th Dan in that art. He established a branch dojo in the Yashio area of Shinagawa Tokyo while living and working there for several years. That dojo continues on as the Oomori Dojo under Kirii Sensei.
He has also served as the International Liaison for the association and as a translator for senior instructors conducting seminars across the globe. In 2009 he returned to the US and established the Minnesota branch dojo. He has represented the Shimbukan dojo along with other local and international students at the world tournament in Okinawa in 2003, and participated in the Association's Championship Tournament three times, placing each time and winning it once.
He is joined in his training by his wife Mikako, and his daughter Ryuka, both of whom are advancing through the Dan Grades. He has worked to establish multiple training locations in the Midwest including Lonsdale, Mankato, a work-place club at the Department of Human Services in St. Paul, where he works, and via Jerry Holt's Shibu in White Bear Lake, John Kerker's Shibu in Carson Iowa, and Anthony Hathaway's Shibu in Plainfield Indiana, and Susan Ingerman's Dokokai in Michigan. He holds a BS in Information Systems Management with a minor in Asian Studies and an MBA, both from the University of Maryland. In 2003 he passed the test of Japanese Language Proficiency for 3rd Kyu. He is a veteran of 11 years of active duty in the US Marines where he attained the rank of Staff Sergeant and is now a Commissioned Officer in the Navy Reserves supporting the Commander of US Forces Japan at Yokota Air Base Japan.